Thursday March 28th 2019
Time: 7:30 PM
Doors Open at 7pm
Speaker: Nancy Black
Nancy Black is a marine biologist who received an M.S. in Marine Science from
Moss Landing Marine Laboratories and has owned and run Monterey Bay Whale
Watch since 1992. She worked as a research director for the Oceanic Society on a
population of spotted dolphins in the Bahamas, and on a program in Monterey Bay to
conduct research on large baleen whales and dolphins during the 90's. Nancy worked
with NOAA and the Seattle Marine Mammal Laboratory for 12 seasons to research
Killer Whales throughout Alaska, including the Aleutian Island chain. Nancy has
contributed data and photo IDs of Humpback Whales and Blue Whales in Monterey
Bay for Cascadia Research for over thirty years, and conducted aerial surveys for
several years in offshore waters along the Central Coast. She has worked with many
film crews over the years, including Blue Planet 1, where she assisted with the first
professional filming event of the predation of Killer Whales on Gray Whales, a
National Geographic film focused on Killer Whales of Monterey Bay and advised
filming on her boats for Blue Planet 2, PBS shows, and Animal Planet.
Nancy began her interest and research on Killer Whales as a student in the late 80's.
She continues to follow the Killer Whale population that is unpredictably sighted in
Monterey Bay, ranging from southern California to Southeast Alaska, and has
documented four generations of Killer Whales living in their matriarchal societies.
Nancy was the first to document the very high levels of chemical pollutants (PCBs,
DDTs) in these whales by collecting small samples of skin and blubber under permit.
She has documented four different eco-types of Killer Whales in Monterey Bay,
including discovering and identifying the endangered Southern Resident Whales in
Monterey for the first time in 2000. Her passion for these highly intelligent and social
animals that live and hunt in family groups has continued, and she spends most days at
sea during the peak time for transient Orca sightings in Monterey Bay in April and
May. Nancy will give highlights of her experiences and observations with Killer
Whales in Monterey Bay, including associations, movements, predation behavior and
social behavior.
Thursday, February 28, 2019
Time: 7:30 PM
Doors Open at 7pm
Speaker: Dr. Shawn Noren
When IMS-UCSC research scientist Dr. Shawn Noren was asked by United States Geological Survey to "do a study on the bioenergetics of Pacific walruses" she had never seen a walrus, nor had she ever ventured to the Arctic. As Dr. Noren dove into the scientific literature, she realized that very little was known about these mysterious creatures. As her research unfolded, she found herself face to face with these enormous 1,800-3,700 lb creatures. Dr. Noren studied walruses for over five years, and her
research was cited throughout the 2017 Pacific Walrus Species Assessment Report to determine to list walrus under the Endangered Species Act.
Dr. Noren has studied marine mammals for over two decades, and seeks to understand how the unique physiology of marine mammals enables them to function in their "extreme" environments. Her research has taken her to an uninhabited island in Nova Scotia to study gray seal diving, to Antarctica to investigate Weddell seal thermoregulation, and to Hawaii to examine dolphin calf swimming (this research was part of the 2013 legislative decision to strengthen the dolphin-safe label). Her research has demonstrated that immature marine mammals are born initially lacking the physiology required to survive at sea, making them particularly susceptible to habitat perturbations. Dr. Noren's walrus research inspired her to study other Arctic marine mammals to aid in their conservation and management, and she is currently seeking funds to continue her research on beluga whales. If Dr. Noren's research inspires you, please consider making (or asking your employer to make) a tax-free donation to support her research by either going to the secure web site: http://giving.ucsc.edu/ (enter the designation code IM020F, Marine Mammal Lab into the special instructions field) or request a donation form by emailing Dr. Noren at snoren@ucsc.edu.
MEETING IS OPEN TO THE PUBLIC
__________________________________________________________________________________________________________________
Thursday, January 31, 2019
Time: 7:30 PM
Doors Open at 7pm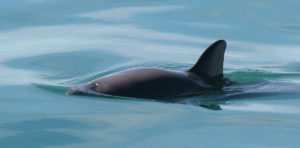 Speaker: Brooke Bessesen
When researcher Brooke Bessesen set out to write a book about the smallest cetacean she had no idea how high the stakes would be. Traveling into Mexico, she found a cartel drama unfolding. Over the next twenty-two months she followed the scientists studying vaquitas and the organizations and honest fishermen facing grave risk to save these tiny porpoises.
Attempting to reconcile the conflicts obstructing conservation amid rising violence and a plummeting vaquita population, Brooke found herself on a raw, personal journey to the doorstep of extinction. In this presentation, she shares stories from the field and helps clarify the historical and immediate forces driving a species to the brink. After her talk, she will be signing her new book Vaquita: Science, Politics, and Crime in the Sea of Cortez.
Brooke Bessesen has worked with wildlife for over thirty years. She's been eye-to-eye with humpback whales and surrounded by free-flying California condors. She has hand-raised a baby wallaby, rehabbed a rattlesnake, trained a tiger, and photo-identified dozens of wild bottlenose dolphins. As a research fellow, Brooke's marine studies in Costa Rica led to the naming of a new yellow sea snake, Hydrophis platurus xanthos. She is the author of seven books. Through her writing, Brooke strives to make science accessible. In 2010, she founded Authors for Earth Day, and many prominent kid-lit authors have joined the coalition to mentor young readers through special conservation-focused school visits.