The American Cetacean Society engages in educational, conservational, and scientific pursuits for the purpose of expanding scientific knowledge of whales, dolphins, porpoises, and related creatures. Services offered by the Monterey Bay Chapter include monthly meetings open to the public, featuring presentations about whales, dolphins and related aspects of the marine environment.
Proceeds from our events and fund-raising activities support marine mammal research, and the health of Monterey Bay, through graduate student research grants. If you would like more information on our grant history, or how to apply for a future grant, please email acs_montereybay@yahoo.com.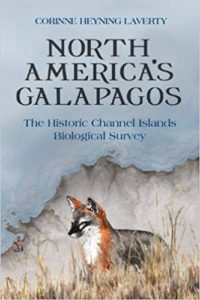 June ACS Online Zoom Meeting:
Thursday, June 25, 2020
7:30 – 9:30 pm
No cost to attend – Register here: https://www.eventbrite.com/e/107762789404
North America's Galapagos: The Historic Channel Islands Biological Survey by Corinne Heyning Laverty is a narrative nonfiction book that recounts the never before told adventures and ambitions of a group of researchers, naturalists and explorers who came together in the late 1930s to embark upon a series of unprecedented expeditions. Their mission: to piece together the human history and biological evolution of California's eight Channel Islands. Ninety years later, Heyning Laverty breathes new life into the expedition and will share with us their discoveries, a lasting impression of the raw beauty and uniqueness of these islands, the challenges of scientific research nearly 100 years ago, and the remarkable modern discoveries that are changing the ways we believe North America was populated. Her book and presentation help us recognize the larger story of how the scientific process continues long after individual efforts cease.
Corinne Heyning Laverty  is a research associate and fellow at the Natural History Museum, Los Angeles County, an associate of the Santa Cruz Island Foundation and a member of the All Eight Club, a geographic organization that tracks the people who have ever set foot on all eight Channel Islands (of which there have only been 223). Her work has appeared in Lonely Planet, Western North American Naturalist, Eco Traveler, WhaleWatcher, Pacific Currents and Hippocampus Magazine, among other publications.
Special Offer for ACS Members, Friends and Guests: Receive free shipping plus a free e-book version of North America's Galapagos: The Historic Channel Islands Biological Survey.  Select both the e-book and paperback, "add to cart" and then use the discount code VIRTUALISLANDS :  https://uofupress.lib.utah.edu/north-americas-galapagos/
Find Out What's Going On at ACS Monterey Bay – Sign Up Today!